Workplace Technology Research Lab
Led by Dr. Diana R. Sanchez
Email: sanchezdianar@sfsu.edu
Research Lab: Workplace Technology Lab
Dr. Diana R. Sanchez is an Assistant Professor in the Industrial/Organizational Psychology program in the College of Science and Engineering at San Francisco State University beginning Fall 2017. She received her undergraduate degree in Industrial/Organizational Psychology from Portland State University. There she worked as a research assistant in the Work and Family Stress research lab with Dr. Leslie Hammer. She obtained her master's degree from the University of Baltimore in Industrial/Organizational Psychology and there focused her interests on workplace training and development. She continued her educational training at Colorado State University where she completed her Ph.D. in Industrial / Organizational Psychology. There she worked with advisors Dr. Alyssa Gibbons and Dr. Kurt Kraiger and ran an undergraduate research lab on technology based training.
Prior to joining the staff at SFSU, her applied experience included over 12 years of experience in the areas of Human Resources and I/O Psychology. Dr. Sanchez has worked both internally for organizations such as John Hopkins University and Home Depot, and externally with consulting agencies such as Personnel Decisions Research Institute (PDRI).
Her research interests have focused on technology innovation and implementation, specifically looking at how organizations integrate technological solutions to manage workplace personnel. Her primary research interests includes:
Training and development
Computer simulations
Game-based training
Gamification at work
Virtual work
Virtual teams
Online assessment
She also collaborated with other researchers on topics such as automated scoring methods, organizational sustainability, workplace mindfulness and risk taking behaviors at work.
Dr. Sanchez runs the Workplace Technology Research Lab where graduate and undergraduate students examine the development, application, and effectiveness of various forms of technology in the workplace. The primary purpose of this lab is to provide students with guidance and information on how to produce high quality research and to disseminate this information via conference and acadmic paper submissions. The lab aims to improve the effectiveness of technology innovation and implementation at work.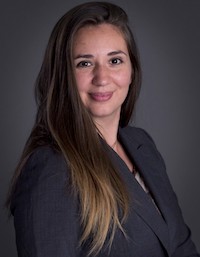 Lab Core Values
Foster Growth - to provide opportunities for personal and professional growth. Enabling the development of new skills that are transferable to the workplace and to daily life. Inspiring individuals to freely explore their goals. Challenging individuals to push themselves to reach their full potential.
Provide Community Support - to facilitate an inclusive, interactive environment that hosts a collaborative network of members who support one another. Encouraging individuals to work together and create personal and professional connections.
Create a Safe & Open Environment - to generate a non-judgmental outlet for individuals to step outside of their comfort zone and take risks. An environment that welcomes the unique and diverse ideas, perspectives, and expressions of others. Building an expectation of being receptive and encouraging to the thoughts and feelings of others regardless of their own personal views.
Generate a Positive & Enjoyable Experience - to build a positive mindset that promotes enjoyment. Emphasizing the importance of positive energy and fun. Empowering individuals to take charge of their own perspective. To acknowledge the responsibility each person has for themselves and their experience; while recognizing the impact each of us has on creating a positive experience for others.
Facilitate Health & Wellbeing - to encourage health in all areas of life. To recognize the individual needs we all have and to empower each of us to express those needs in order to facilitate healthy living. To balance our professional commitments with well-being and wellness. To be supportive in each other's wellness; including the maintenance of a harmonious work-life balance.