Welcome to the Psychology Department
Psychology is a broad field of study and practice comprised of several different yet complementary areas of specialization. The Bachelor of Arts in Psychology is built around a core set of courses in theory and methods plus three broad areas of study: basic psychological processes, individual differences in psychological development, social, cultural, organizational, and community contexts. Several themes of common interest extend across these broad areas including an appreciation for cultural and human diversity, ethics and values, a sense of individual empowerment, historical antecedents, critical thinking and the understanding of self and others.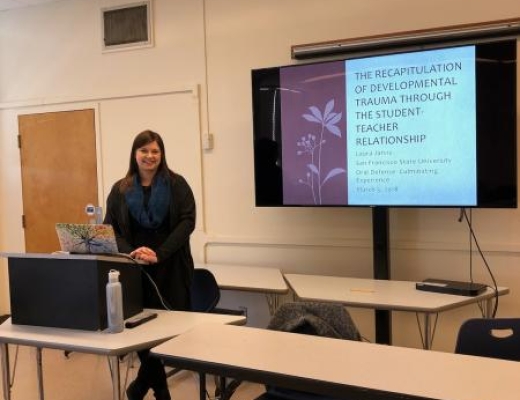 Undergraduate Student Resources
Online Bachelor's Degree Completion Program
The Psychology Online Bachelor's Degree is operated by the College of Professional & Global Education.
The CPaGE Bachelor of Arts in Psychology offers a foundation in the analysis and critical evaluation of psychological literature; the communication of psychological concepts and facts both orally and in writing; and the development of psychological research including design, data analysis, measurement and basic computer operation. Their B.A. degree provides an excellent foundation for work in the community in many fields that involve human relations and behavior. In addition, the undergraduate degree is excellent preparation for graduate school in all fields of psychology, other behavioral and social sciences, as well as for graduate programs in business, law, medicine and many other professional fields.
If you any questions regarding the CPaGE Psychology Online B.A. Program, please reach out to them at psychonline@sfsu.edu
A Message from our Psychology Department Study Abroad Program
Though we all continue to shelter-in-place due to COVID-19, that has not stopped the learning process of our Gators. Our Study Abroad program would like to share the fruits of their labor with you: a Youtube channel featuring tips for self-care, social-emotional resources for young children, and shout-outs to all our essential workers from students like you!
We are starting you all off with their introductory video, but feel free to explore and share their channel with friends and family.
Congratulations to the Class of 2021!
The Psychology Department Office is Open on Mondays to Thursdays.
If you have any questions, please email us at psych@sfsu.edu and we will get back to you.
For updates on the status of campus operations, please visit the Campus Comeback website.
Current Students
Because we are understaffed, we advise you to email psych@sfsu.edu for any questions and for advising. Please try not to call or come in person.
Remote Advising
Our Peer Advisors and majority of our Faculty Advisors will have remote advising available.