Welcome to the Psychology Department
Psychology is a broad field of study and practice comprised of several different yet complementary areas of specialization. The Bachelor of Arts in Psychology is built around a core set of courses in theory and methods plus three broad areas of study: basic psychological processes, individual differences in psychological development, social, cultural, organizational, and community contexts. Several themes of common interest extend across these broad areas including an appreciation for cultural and human diversity, ethics and values, a sense of individual empowerment, historical antecedents, critical thinking and the understanding of self and others.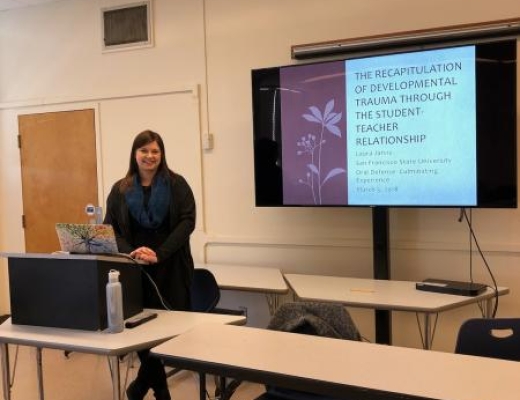 Undergraduate Student Resources
Psychology Major Program Impaction
In July 2009, the California State University Chancellor's Office approved impaction status for the Psychology Department.  We declared impaction in order to better serve over 700 undergraduate majors by ensuring that they have seats in required courses, which will help them graduate in a timely manner.
Admission to the Psychology major is a selective and competitive process with attention given to GPA, financial need, first generation college student status, and completion of an Associate Degree for Transfer.   The Department, in consultation with the University Admissions Office, reviews admissions criteria on an annual basis.  The major can accomodate approximately 350-400 new students annually.  Applications for admission to the major are accepted annually between October 1 and November 30.
​Once admitted, the major can be completed in 2 years by students taking 15 units per semester and following an advisor approved roadmap.  Roughly half of our students take 12-14 units per semester with the remaining students split between those taking fewer than 12 units per semester and those students taking 15 or more units per semester.  Declaring impaction has improved  students' time to graduation and has allowed us to lower our student to faculty ratio.  Faculty are committed to fostering engaged learning and academic success among our majors, and are more available for advising and mentoring with impaction.
A Message from our Psychology Department Study Abroad Program
Though we all continue to shelter-in-place due to COVID-19, that has not stopped the learning process of our Gators. Our Study Abroad program would like to share the fruits of their labor with you: a Youtube channel featuring tips for self-care, social-emotional resources for young children, and shout-outs to all our essential workers from students like you!
We are starting you all off with their introductory video, but feel free to explore and share their channel with friends and family.
Congratulations to the Class of 2021!
The Psychology Department Office is Open on Mondays to Thursdays.
If you have any questions, please email us at psych@sfsu.edu and we will get back to you.
For updates on the status of campus operations, please visit the Campus Comeback website.
Current Students
Because we are understaffed, we advise you to email psych@sfsu.edu for any questions and for advising. Please try not to call or come in person.
Remote Advising
Our Peer Advisors and majority of our Faculty Advisors will have remote advising available.